Landauer X-Ray Monitoring Service
$104.99–$165.99  ANNUALLY — FREE SHIPPING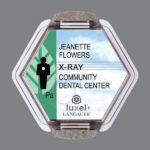 ‣ THE MOST ACCURATE BADGE ON THE MARKET
‣ 10 TIMES THE SENSITIVITY OF FILM BADGES
‣ PROTECTION AND PEACE OF MIND FOR YOUR EMPLOYEES
Experts agree that there is no safe level of radiation. Even the smallest dose may cause cancer and genetic damage. Any healthcare facility may be exposing staff to unsafe levels of radiation. That's why accurately measuring and recording radiation exposure over the long term is important for your staff and your practice.
The Landauer Luxel+, with state-of-the-art Optically Stimulated Luminescence (OLS) technology, has the highest sensitivity available today — 10 times the sensitivity of film badges!
Click here for a short video explaining Landauer's advanced OSL radiation dosimeter technology.
STYLES OF BADGES
Luxel+ monitors come in 2 styles — Body Badges, generally worn on the outside of scrubs and personalized with an individual's name, and Ring Dosimeters, to be worn when operating hand-held X-ray devices.

Landauer was the first company to receive accreditation from the National Institute of Standards and Technology through NVLAP for Ring Dosimeters when the extremity dosimetry standards were first established.
TYPES OF SERVICE
You may choose Monthly or Quarterly Service. In addition, Open Healthcare provides a unique badge specially designed for pregnant members of your staff. Our Fetal Service monitors for 7 months to ensure the highest level of safety.
SELECT THE SERVICES AND BADGE TYPES THAT BEST FIT YOUR PRACTICE —